Popular Types Of Wedding Invitation Paper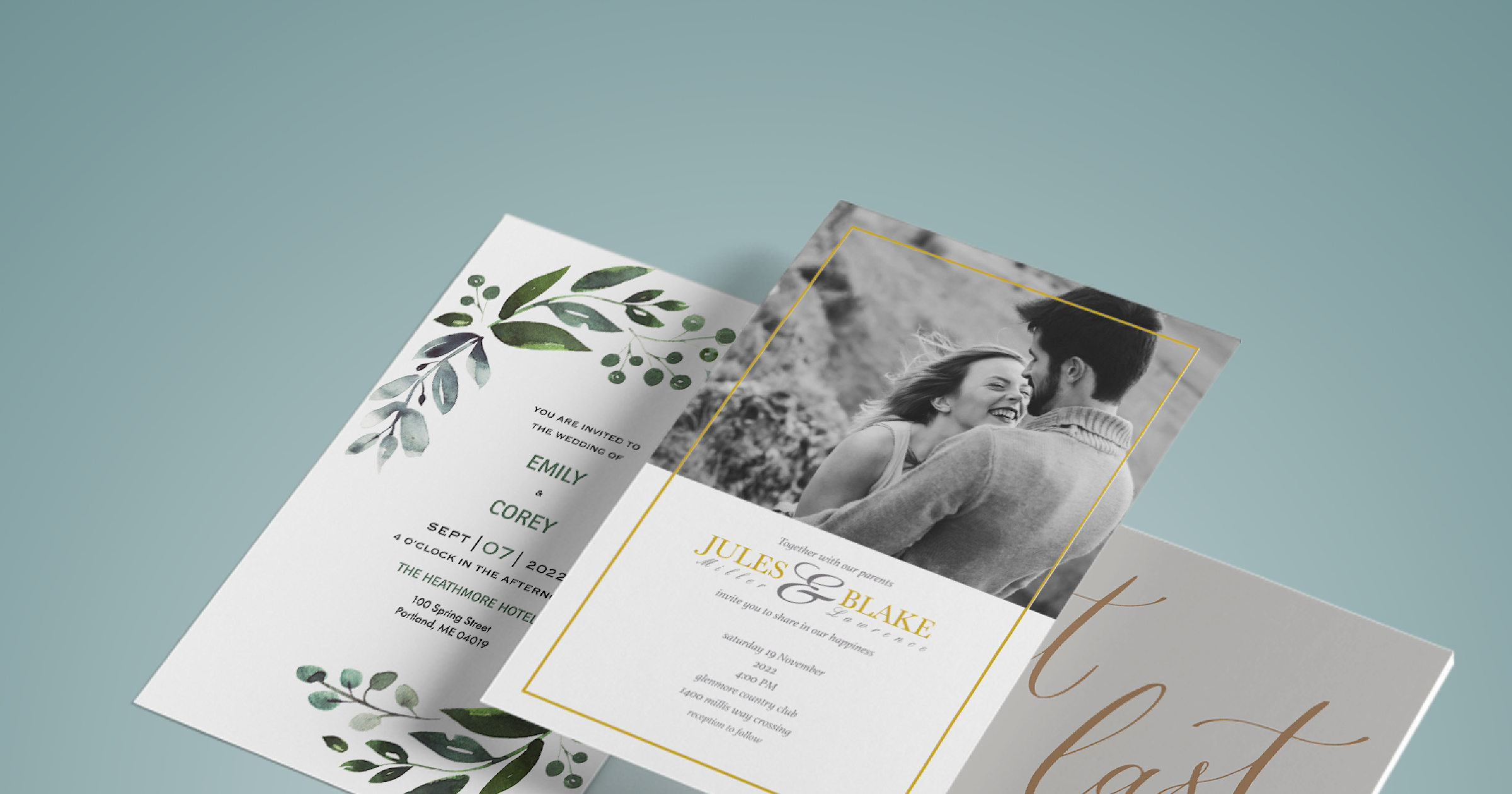 Whether you're meeting an invitation designer or browsing invitation, you might find yourself overwhelmed by all the choices available for you for wedding invitations paper, and might you not know how different designs and qualities they have! Then there's the printing techniques-embossed, foil-pressed and letterpressed. There many choices surrounding the card that will make your wedding style unique.
Here are some details of invitation papers which will help you in deciding, what combination of wedding invitation is right for you, is in your budget and according to your style. We've outlined the top invitation paper styles and printing techniques and our favorite of each below.
Recycled
For nature-loving couple or rustic style wedding, this paper includes repurposed materials, which is the choice for you. An eco-friendly wedding invitation is just perfect for all nature lovers. Wedding invitations card paper comes in a variety of shapes, styles, and sizes. There are many choices for you.
Vellum
It is made from animal skin, cotton, and wood pulp blend today. Using this semi-transparent paper will give your wedding invitation a beautifully light and airy look. It's budget-friendly and easy to print on with most home printers. Pair vellum with additional paper layer with a few other pretty little details for wedding invitations that are effortlessly romantic.
Cotton fiber
This paper is made from cotton, cotton linters or used clothes are used to make it. Cotton fibers are soft and strong, they fully absorb and accept impressions made during the printing process, ensuring that your stationery makes a lasting impression .you may prefer this type of wedding invitation because of its strength and durability.cotton fiber absorbs its ink better so colored ink looks a little richer than another one.
Board
If you are looking for a heavy cardstock-we're talking thick, sturdy paper-go for a board wedding invitation. Get a deep impression with heavy card stock, which will complement your invitation design brilliantly. Made with a cotton texture with three layers of paper. It looks very thick and traditional.
Pearlescent
This is that type of paper for wedding invitations that has a little sparkle. Pearlescent paper has a little bit of shimmer finish on the top which makes it unique and pretty. If you're using photographs on your invitation, it gives a beautiful glow to your image. It is available in a variety of beautiful shades of colors and gsm range.
Thermography
This budget-friendly technique gives you a slightly raised text effect in your wedding invitation, without the high-price of embossing and engraving. Thermography invitations also offer a variety of paper colors and styles for a fun feel or for a suave soiree. Full-color thermography is loaded with texture, which is an excellent way to enhance design and the wording. To give a creative look ink is mixed with a special powder and applied with heat for a painted on paper.
Digital
The most inexpensively printing style is digital invitation cards. Using a high-quality printer, printers can create a beautiful invitation in less time. If you're planning a grand wedding and want to make it unique then go for the option of sending the personalized digital invitation. There are a wide number of colorful wedding invitations that make your wedding unique.