Interesting Pre-Wedding Themes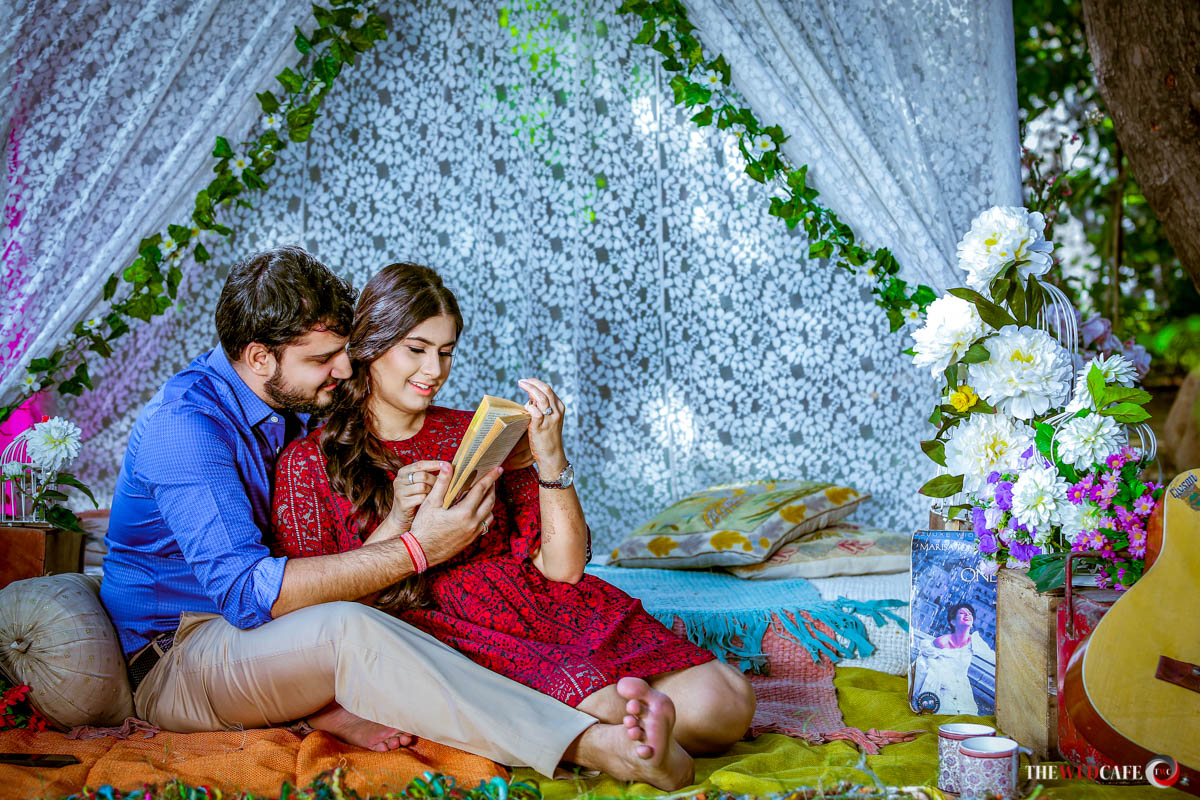 Making weddings more beautiful and memorable, with traditional ceremonies, theme functions, and wedding invitations. Pre-wedding shot ideas have become must-have activity, making a wedding feel incomplete without having one. New pre-wedding photoshoot ideas are what we all would love to know this wedding season. Those time era of awkward poses and irritating photographers telling us how to stand are going. Love is truly magical, so it should be portrayed in a lovable and magical manner. So we have listed some of the most amazing pre-wedding shot ideas just for you. In case you also need help in Choosing the right pre-wedding photographer for your choice\ style of pre-wedding shoot, consider exploring this comprehensive list.
Exchange your invitations
Wedding invitations are pretty important for the ceremony. So, why not we use it in pre-wedding shoot? Capture the moment when you are exchanging your ceremony invitation cards and make it a unique and memorable moment.
Go Filmy
Sanu Ek pal chain, Kuch Kuch Hota hai, tum nhi samjhoge, we truly understand how filmy and dramatic you are in real life. So, if you love classic romantic films and want to re-live those iconic moments with your love then don't shy away to go for this theme of pre-wedding photography. Be her Raj and she'll be your Simran in your dream film world. Where you pose like never before and make your pre-wedding memorable.
Under the stars
wedding is a beautiful start to your bright journey, then why not start it with a sky full of stars and you both under it?
This shoot idea is to allow couples to feel their vibe under stars where it's just you and your love, and A wof course, your photographers to capture you both getting romantic under the stars. Choose this style for a magical photo shoot to remember for ages!
Bike and love ride
If you are a bike rider then never miss this opportunity of having a bike ride on your pre-wedding photo shoot. When you know that you have a skilled photographer, why not make the most of your pre-wedding shoot.
Perfect proposal
All couples have gone through this moment. Sometimes a proposal is sweet simple 'I love you' and sometimes pompous ceremony. However, why not get the proposal covered in your pre-wedding shoot? And for sure you will love it.
Sweet surprises
We love getting surprises and when a surprise is in your list of pre-wedding ideas, you are sorted. Get that captured!!
Or surprise her with flowers…that's a classic pre-wedding shoot idea.
Water lovers
If you and your partner love swimming and are searching for very different pre-wedding shoot ideas, then this theme is just for you. Posing underwater wearing different costumes and enjoying the water dance is just so adorable. Do try out this pre-wedding shoot idea and cherish the fun, love, and romance you feel when you are in the water with him!
In house pre-wedding shoot
Not to forget this comfy and real-me pre-wedding shoot idea because this is surely the cutest and the most romantic one in the list. Whether you are a Netflix couple, who love enjoying web series together or just a couple who love lazy Sundays, this pre-wedding shoot is everyone's secret desire.
so these are some recommendations for your pre-wedding. do tell us in the comments, which one you like the most?