How Will Covid-19 Affect Weddings Even After It Is Gone?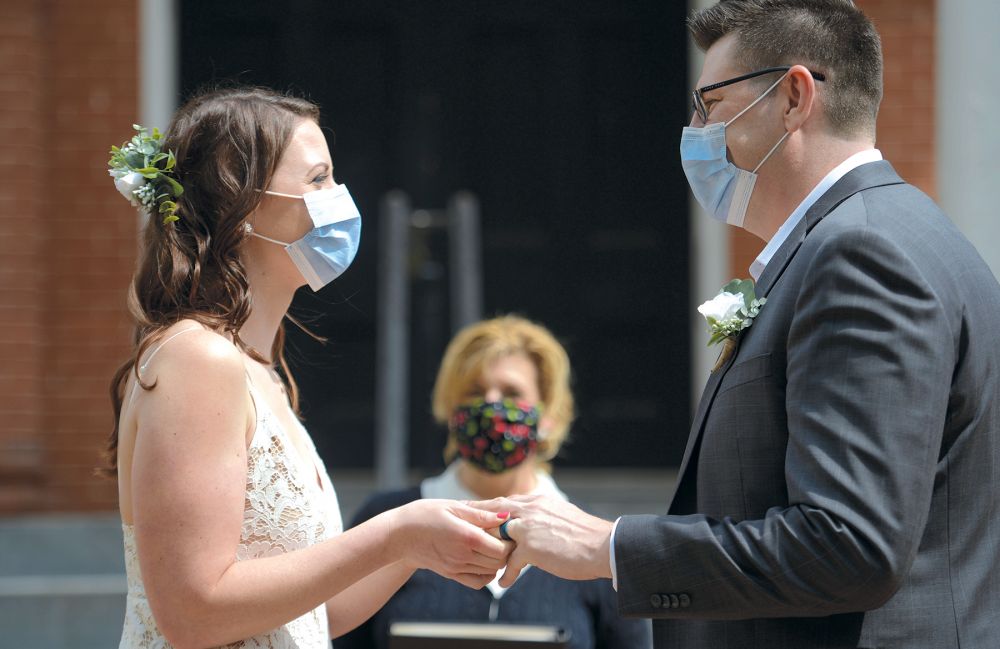 Introduction 
 As it tries to come into grips with the pandemic situation that has put the whole world on hold, couples all over the world are now wondering if their wedding plans are going to remain cancelled even after COVID-19 gets contained. The impact that coronavirus has had on weddings that have been planned to take place during these horrible months are getting postponed and sometimes even cancelled. People who are postponing their wedding are mainly planning to hold the ceremonies during the last few months of 2020 or next year. Couples are trying to look at the bright side, and many have commented that they are going to use this lockdown period to plan their wedding once again. 
Still, the question remains, how they will accommodate all their initial plans into the new one. We can very well gauze that our social interactions and the idea of how a wedding should be will be changed. Post COVID-19, the social distancing norm is going to become the critical aspect of planning a wedding. This sounds strange as a wedding is supposed to be an occasion where people gather in large numbers to mingle and have fun. 
Now, to protect all the guests and the couple wedding have to be smaller and exclusive attention has to be given to hygiene standards. 
Ways In Which A Wedding Will Change Post Covid-19
1. The Budget Will Be Made More Carefully
The inevitable economic crisis that the world will face after is long gone is unavoidable. Financial investments that people normally do at weddings shall decrease. Weddings usually mean quite an expense, and in this economic scenario, having a grand wedding may not be feasible for all. Strict budgeting has to be maintained to make sure that it does put any financial strain on the couple. 
2. The Guests' List Will Shorten
With the social distance in the norm that the world is going to follow from now on, the guest list of a wedding has to be shortened. Even if you have a big venue, accommodating a large crowd will be quite an issue. It is difficult to maintain the appropriate social distancing required for maintaining the safety of everyone present at the wedding. 
3. Pre-Wedding Celebrations Will Become Less Extravagant
The bachelor and bachelorette parties will also be changed. The long, vibrant nights partying all over the town will be tough to arrange. The night clubs scenario shall also be altered post-COVID-19 People will probably have to stay indoors and have a more intimate party. 
4. The Length Of The Ceremony Will Shorten
In many cultures, the wedding ceremony takes place over a number of days. As budgeting will change and so will social distancing norms, the wedding ceremony has to be shortened. This would be best considering it is more difficult to maintain strict codes of health when too many people are gathered in a space for an extended period. 
5. Booking Systems Will Be Revised
Couples can also experience troubles while booking a venue. The contractual agreements that the couples probably had before the pandemic shall not be taken into consideration. Couples can have to pay extra money to postpone the wedding ceremony. There can also be problems in getting a venue if they open at all. 
6. The Seating Arrangements Will Be More Spaced Out
The seating arrangements at the wedding shall also be changed after the pandemic. We can expect a more spaced out setting. This will be easier if the wedding list is shortened. Wedding planners will have to keep in mind while arranging the chairs that each guest will not pose a threat to the health of anybody present in the ceremony. It would be better to have the wedding in an outdoor setting with proper ventilation as it is more feasible to maintain appropriate social distancing there than an indoor environment. 
7. Hygiene Standards Have To Be Prioritised
The hygiene standards at the wedding shall be given priority. Poor health standards should not diminish the happiness in a wedding ceremony. The wedding planner should keep in mind that from the venue to the menu, everything should be safe for all the individuals present there. 
8. Buffets At Weddings Will Probably Be Avoided
It is hard to maintain social distance in a buffet, and when a lot of people are trying to get to the food, it can cause a risk to health. Studies of already found that buffets are probably the most unhygienic restaurants. Family styles on favourite sites are the best option, but if you have a small family gathering, buffets can work. 
9. Weddings May Find New Space In Online Settings 
As we are witnessing hundreds of couples getting married while the guest is joining the ceremony through video calling apps, we can expect this friend to remain post-COVID-19 as well. This is the safest and most economical way to have a wedding ceremony. 
Conclusion
No matter what the future of weddings holds, its fundamental aspect of uniting two people shall remain the same. All the structures of the world are getting questioned and revised; weddings will witness a tremendous change. It may not be a smooth transition as couples can feel disheartened. Nevertheless, as we have seen, many couples get married even during these hard times. It should always be kept in mind that no matter how simple the wedding ceremony gets, its purpose of being a celebration of love and happiness will never change. 
Exclusive Indian Wedding Cards and Indian wedding invitations Catalogue will help you to make your day memorable.