Detailed Guidelines about Wedding Dress Necklines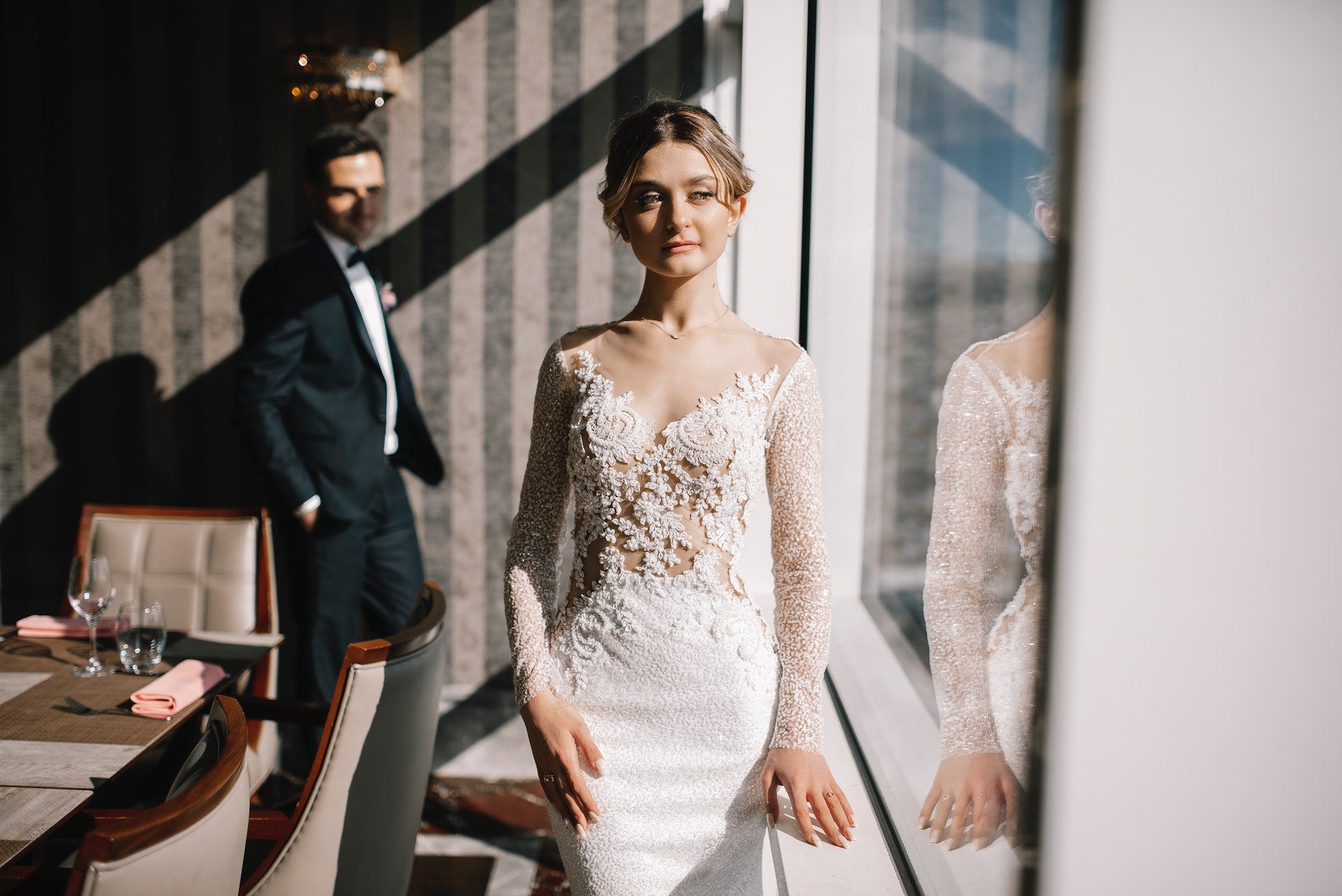 Wedding, this single word brings different emotions in everyone's mind. Being a bride, it is a great feeling to get ready for her special day. The wedding is an auspicious as well as the precious day of life that one should celebrate perfectly. No doubt, one has to look for different wedding arrangements including guests, Indian Wedding Cards, wedding apparels, catering, venue decoration and more. You must be worried about how the venue will look, what type of sitting arrangements you should plan for your guests. You even need to plan for the bridal shower and wedding favors. There are lots of responsibilities on bride which she needs to take care of.
We are not saying these things aren't important, but being a bride you have to look extremely beautiful as you are. There are lots of functions and ceremony are organized and you have to be there maintaining charm and beauty. You'll be the center of attraction of the event. So it is important to plan perfectly for your wedding apparels and accessories. There are many things where a bride should do pre planning and execute accordingly. As their makeup, wedding dress, jewelry etc. When we begin to talk about wedding gowns, then the necklines play a crucial role to make it look even more attractive. As we can see there are different types of designs and patterns and so are there necklines. It is an important element of the wedding dress.
Changing the angle and amount of coverage can drastically alter the appeal of the gown. For a bride, it is important to set a neckline which suits her face and body frame perfectly. So this detail should be chosen carefully that will complement your personality. You have to grab the opportunity to showcase your personality. You'll find endless options in which some are prominent. For example, you can wear a classic, demure, sexy or sultry look by selecting a neckline of a wedding gown. There are endless options.
Here we are listing down a few wedding dress neckline styles, have a look:
Portrait
The style resembles a shawl and offers a frame to the face. This portrait style neckline looks classy and eye pleasing. It offers an enchanting appearance to the bride. This wedding dress will look perfect on a girl who has broad shoulders.
Queen Anne
This option creates a romantic and chic wedding dress shape. You'll feel like a pretty princess after adorning such apparel. This will give a royal look to the bride.
Hatters
This style suits tall brides with broader shoulders and leaves the back and shoulder bare. This kind of neckline gives a sexy look to the bride.
V-neck
It is perfect for full-figured and hourglass shaped brides. It enhances the beauty of the bride.
Jewel
It is perfect for modest brides and women with smaller busts. It enhances the beauty of the bride. This kind of dress looks fabulous on short height girls
Off-the-shoulde
This style has sleeves below the shoulder and covers the upper arms.
Sweetheart
This style dips into a heart shape at the bust line. It's a great selection for the bride who wants to modestly accentuate her cleavage.
You can try any of them which perfectly embrace your beauty.
Strapless
On broad shoulders, strapless neckline dress goes better. Even if you have a small chest, you can opt for such type by adding a fine bra with the dress. This neckline is popular and looks pretty much good looking. These type of necklines work best with skirts.
Halter neck
A halter neck has straps that cover around your neck. A mesmerizing look of such neckline dresses goes perfectly balanced with the backless design. This type of neckline can be given a lace shaped over the chest area. In order to show the back or you have broader shoulder, this neck goes correctly.
Bateau
Bateau or boat neck or Sabrina corresponds to the curve of the collarbone. This feature has v line cut of very tiny size over the chest area. You can put sleeves or sleeveless as per your wish.
Asymmetrical
Actually, this is one strap shoulder design. Here, one side has a strap and one side remain strapless. This will display your shoulders and if you feel that you can remain without a inner wear the only try for this neckline.
Plunge
This neckline is preferably for those who are strong hearted. The deep v shape of the gown on your chest area will probably show your cleavages. This style will compliment the bust line.
Cowl Neckline
This neckline has the feature of cloth that loosely hangs over the neck. Both sleeveless or with sleeves dresses can be paired with such neckline. This instant attention catching neckline is best for the brides who have medium to small busts. This neckline can also be selected with good fabric and must be put off with due care.
Illusion Neckline
This universal classic neckline features a lace or sheet fabric that covers some of the portions of the dress. This type of neckline is many times designed with intricate lace decoration. Some of the times, embroidery work, beading work, crystal work, is used to generate the masterpiece of work. such necklines remove the need for a necklace.
Square Neckline
The straps and neckline are perpendicular with each other. According to your need, you can keep the depth of the neckline. Either you can opt for shallow or deepness. If you have round face, then this neckline is best for you.
Spaghetti Straps
This neckline features thin straps with the sleeveless gown. You can keep any V-shaped or cowl shaped neckline along with this type of straps. This type of outlook reflects stylish feel, modern touch, youthful choice, and is very fashionable. This type of straps along with any kind of neckline will display glamour. If your shoulders are perfectly well toned and classy, you can pick this choice. This feature is not good for those brides who have chubby neck and shoulders.
These are some of the trendy necklines which are usually attuned to the bridal outfit. From so many choices, it is tough to make a selection. You must notice other brides and see which neckline will go correctly with your body shape.