Wedding Hair Accessories to Inspire Bridal Hairstyles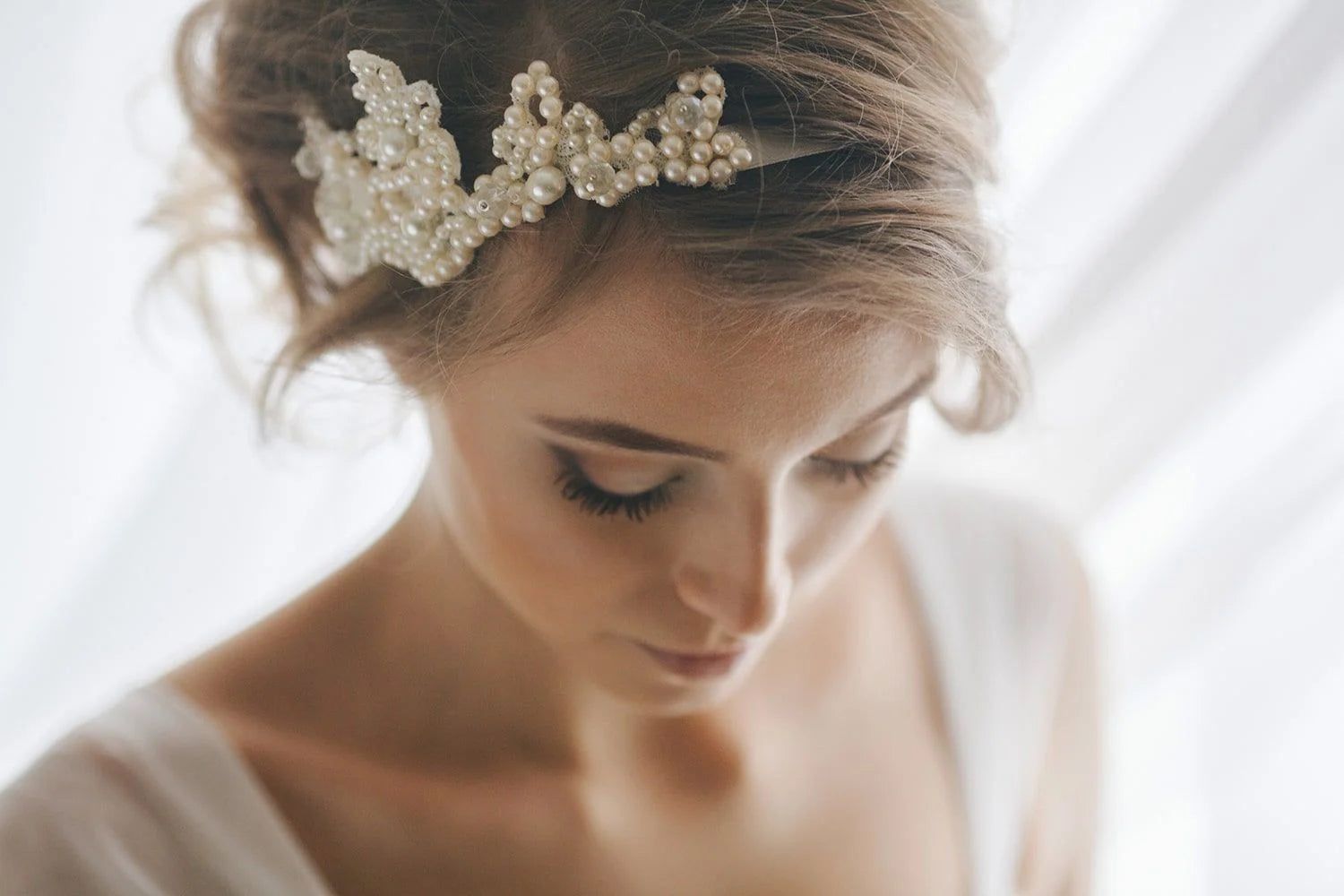 Marriage is the most beautiful day of one's life as it reflects life, love, and possibilities. Everybody imagines their wedding would be like a fairy tale, beautiful, grand and classy. There are so many things which a couple prepared to make this day very special. The bride and groom want to look their best on this day. Brides are the center of attraction in the wedding parties, from bridal dress to bridal makeup, everything is used in beautifying the bride from head to toe.
Looking perfect on the wedding day is a dream of every bride. Choosing bridal accessories like
Indian Wedding cards
will enhance the charm of the bridal look. But be careful, before selecting the accessories you need to come up with a bridal dress. As
 wedding cards
represent an idea about the wedding, the accessories and hairstyle come out with the beauty of the dream coming true.
Select the right hairstyle which complements your face and dress, is a matter of your taste and image you want to try. Different Hairstyle provides an outstanding look to the bride and shines your personality on this day. Some brides chose to not apply anything to hair but some want to adorn their hairs with different hairstyling accessories like Hair combs, headbands, tiaras, diadems, flowers and flower crowns, leafy clutches. A headpiece can highlight your hairstyle and unify your wedding attire. Your bridesmaids can use these headpieces in styling up hairs. Here are some patterns of hair accessories,
Headpieces for bridal hairstyles
The luxurious statement pieces will turn all invitees eye towards you, the bold look with these sparkling crystals make a special bridal entrance that no one will forget. There are lots of beautiful headpieces are available in the market like semicircle headpieces, jewels, and beads headpieces, etc. You just need to select a perfect one according to your hairstyle and wedding dress.
Floral hair accessories
These styles have come in recent years. Brides, in love with vintage, whimsical, bohemian theme weddings, are turning these floral adornments as an alternative to traditional veils. especially in spring, these fresh flower headpieces are a perfect match for a woodland, outdoor weddings.
Gorgeous headbands and bridal fascinators
For more formal weddings, highly decorative accessories should be used to provide mesmerizing beauty to the bride. If your wedding is casual, then choosing less decorative accessories will be a good thought. Bridal fascinators should complement your other jewelry. It is nearly predicted how you are going to wear your veil and hair. Anything you choose will have to be tucked by means clips and pins.
Tiara and vine-leaf style hair accessories
These accessories will give a simple and elegant look to the bride. It suits mostly dress-up and wedding styles and appears fantastic. These accessories appear in fairy styles weddings.
These certain accessories will enhance the charm of your beauty and turn your hairstyles into the gorgeous look. The beauty of the bride emerges with eyes astonishing.
Pearls
You can use a pearl necklace or any pearl band to showcase the bridal hairstyle. This is becoming trendy day by day. Many girls look elegant and dazzling due to pearl made hairstyles. You can clutch any pearl band on your bun.
Hairpins
A small, simple and sweet hairpin can give beauty to any bride's hairstyle. There are many kinds of bridal hair pins available in the market. If the bride is putting on the glamorous look, then hairpin with glamour can be attached. For cool brides, some other sort of hairpin can be founded out.
Hats
Nowadays, the culture of keeping hats by the bride on the wedding occasion can be seen. You can try out the veil hat or hat with the composition of flowers to have a more chic and neat look on the wedding day. Something stylish and pom-pom look can be used to create a unique bridal hairstyle.
Hair Jewelry
Mostly seen in Indian culture, hair jewelry is a fine-looking aspect. With rosy colors and diamond look pieces, the hair jewelry can be wonderfully clutched on the forehead above eyes. This will give brides a unique and classy look.
Flowers
With a bunch of flowers or just a big flower, any bridal hairstyle can be given a classy look. There are numerous varieties of artificial and original flowers. Any band of flowers or hairpin of flowers can be clutched with a bun on the head of the bride.
Hair Rings
A beautiful hair ring can be made to give bridal hairstyle an eye-catching look. With one or two rings or bundles of rings, many new experiments can be done. This is another vital accessory to make the bride beautiful.
Feathers
A soft and silky feather clip can be used on the bridal hairstyles to make the bride more good looking. There are plenty of ranges of feathers and many feather hairpins or feather clips are out on the market. You can either buy online or offline and get your favorite feather clip.
Combination of Accessories
To make the bride just look gorgeous, you can make a new and unique accessory all by yourself. You can take a bunch of flowers, a feather clip, a hair ring, a hat, some pearls, etc and make something innovative out of this. All the accessories together can give an impressive look at the bridal head. But, such combination can either make or break the beauty of the bride. So, be careful while experimenting with the combination.
A bridal hairstyle can be made everlasting with any of the above-mentioned accessories. Weddings are a big day for the brides and usually, brides love to become attracting personality on the day. Hence, a lot can be done with the hairstyles of brides.
Weddings are considered as the most exceptional events for a person in his lifetime. Besides, distributing wedding cards, ordering from vendors, shopping, etc. to make the bride an attention-grabbing personality on the big day is also a vital aspect of the checklist. While decorating the bride, you need to undertake many key features. The bridal hairstyle can be decorated with several things. We have defined them to give you a clear concept. Indian Wedding invitations can help you to look better on this occassion.