Tips to Select Your Dream Wedding Venue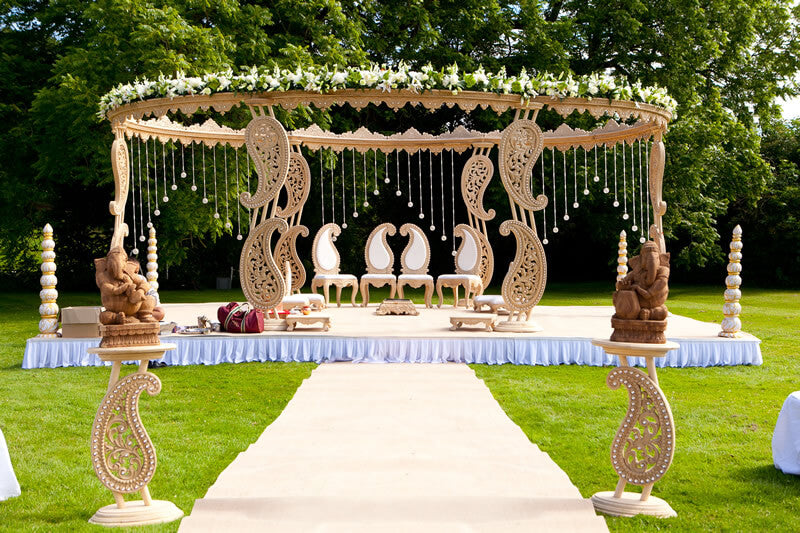 The wedding day is the most precious day in everyone's life and people do months of planning to make this day beautiful and memorable. From wedding cards to the wedding venue there are lots of things which we have to plan before our wedding day. This auspicious occasion brings happiness and celebrations to everyone's life. Marriage is one of the most important days in a couple's life. This special day needs months of planning to execute the most memorable and significant day of everyone's life. From Indian wedding cards to wedding venues, wedding food to the wedding dress, everything is taken great care of.
Wedding planning is time consuming and hectic process. People put lots of effort into planning like a wedding venue, flower decoration, catering, lighting, candles and cake and many more. With the announcement of the engagement date, the couple starts looking for the marriage venue. As they have devoted some days in planning to pick a wedding venue. Choosing a wedding venue of your dreams is a problem as well as it covers a major section of the wedding planning. Planning a wedding combine many things like wedding cards, decoration, centerpieces, theme color, cocktail hour and more. As an engaged couple, it is the main decision that you need to take as soon as possible. It is hard to find a perfect venue in the wedding season because people book in advance or a year before their wedding date.
The wedding venue is quite expensive first of all you should allocate a fixed budget to book the venue. Most of the couple select the easily approachable place so maximum guests can join the event. You should plan a wedding that makes your guests feel comfortable.
Take an estimate of guests
You should make a view of the guests that you are probably inviting to your marriage. It will help you decide what type of wedding venue you should book. Prepare a list of guests and make sure the number of guests should count minimum because most of the marriage planners offer options with a pretty wider space. Select wedding venue according to your estimated guests. The most important thing for choosing the right venue that should be spacious. So if you prepare an estimated list of guests, you will get the basic idea that how big a place you want for your marriage.
Set the budget
Sit down with your partner and decide your wedding budget. Before deciding the budget make sure that you have left with enough money in your pocket because you have to pay for many things and a venue is not the only thing left for marriage arrangements.
Check the photos
Ask your wedding planner to bring pictures and designs of the wedding place and then shortlist the one you want to visit. It will help you to save your time as you must be busy with further wedding planning.
Finalize wedding date
It is necessary to complete the wedding date, so you get to know when you need to book the venue. Without knowing the date, you will not find yourself able to fix the location for the event. Once you finalize your wedding date, you can fix a venue for your wedding and book accordingly.
Rents
When you visit different sites, notice what facilities they are providing and how much rents they are asking. When you visit, don't book the place instantly, after visiting come home, sit and think twice and compare the offers and then book the venue.
There are certain things more, which you must memorize while deciding on your wedding venue. Every aspect of the wedding day will be related to the place you have chosen.
Style
Your wedding venue style can create a tendering ambiance. Whether it is a destination wedding or wedding from home, whether it is a traditional wedding or wedding with a modern touch, the major part of the ceremony will depend on the place. A seaside wedding will give you a different feeling than the garden wedding. Hence, you must choose the wedding place and the style of the place very carefully. You must check out your favorite wedding places and visit them before finalizing the one.
Your Planning
Even the way you plan a theme for the big fat day, the selection of the venue will matter. If you will plan your wedding in a crowdy place such as near a market then your guests can have troubles related to traffic and parking cars. The decoration, cocktail, etc every fact will smash with your wedding venue. In the same way, if you plan your wedding in a lonely forestry area, then your guests may find it difficult to reach the place. Hence, when you are planning for the wedding venue, you must also keep in mind the other issues related to it. In India, Indian Wedding invitations can play an important role in wedding.
Décor
The decoration of the wedding ceremony must be based on the place selected. If it is a warm sunny day and your wedding place is on beachside then you will need to have coolers and air conditioning machines to satisfy your guests. If it is monsoon time, then you cannot keep your wedding event in a garden or an outdoor place.
A wedding venue can be hotel ballroom or a garden, a seaside sandy area or a hilly mountainside location, a forestry area or a desert region. You may be having a wedding near your house or maybe in some other city, state or country. Whatever you choose, you should be watchful with the pros and cons attached to the place. A decision made with proper care and all the precautions can come out to be a successful decision.
When two people are wedding they usually have many dream planning rotating in their minds. Their love and sentiments blow them in a fantasy world. All that is ok. But, a person should be really practical while making wedding decisions. Whether it is an issue of wedding cards or wedding destination, no unrealistic planning out of budget should be made.
These things will help you make a smart decision, and you will be able to have the best location according to your requirements.