Must-Know Tips For A Beach Wedding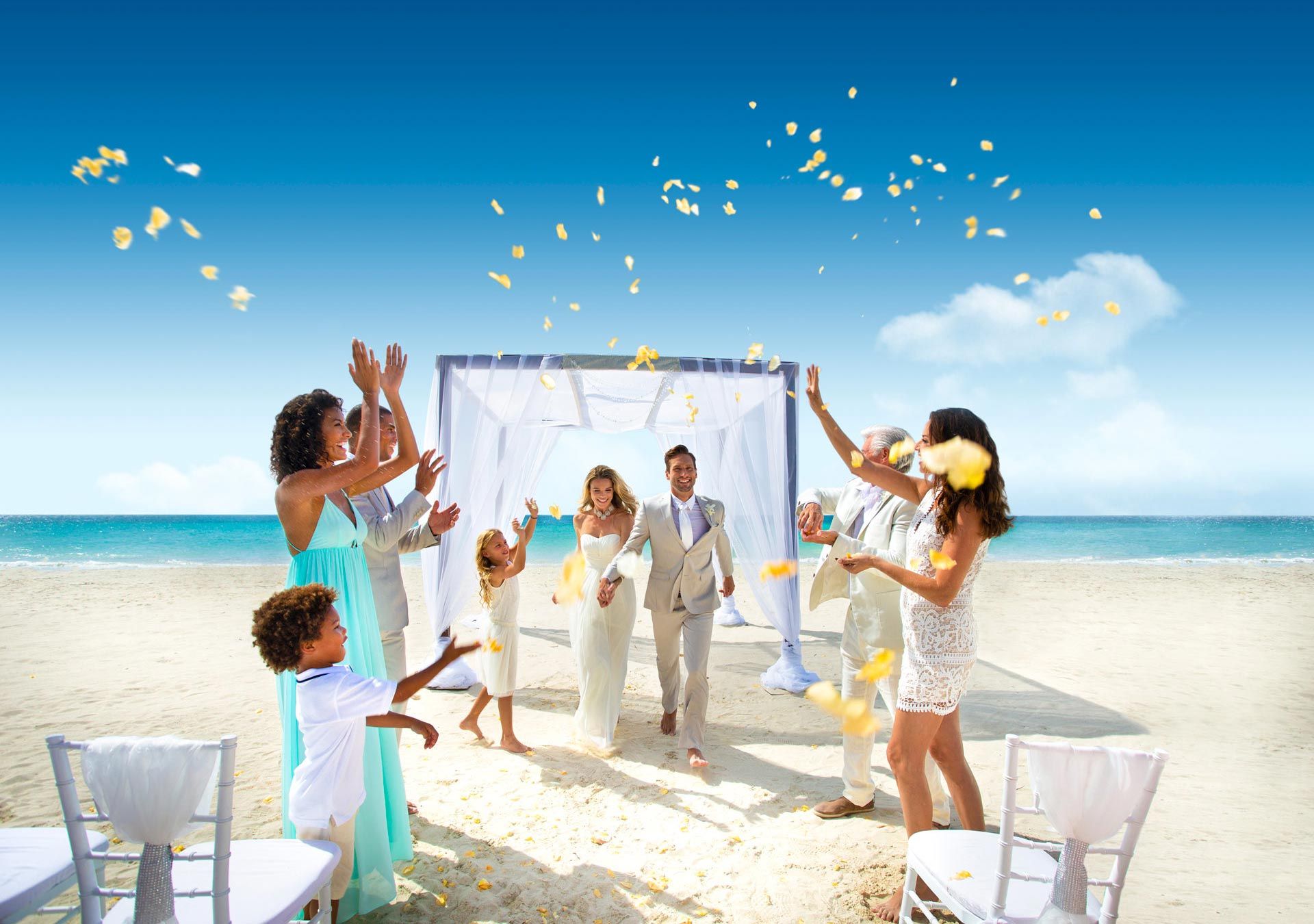 Are you excited about your beach wedding? You should be. Beach weddings are in trend now these days. Everyone loves a cool ocean breeze, soft sand, a gorgeous sunset, and beautiful views and a beach is a great place for the wedding. But a unique wedding style sometimes becomes a big issue. It's good that you're thinking something new but be careful and plan your wedding perfectly. Planning a perfect beach wedding is very difficult without having the right guidance. You must think about every single thing from the beach wedding invitation to wedding outfits. Don't worry you'll plan a perfect beach wedding with our guidance. Scroll down and get some tips for planning a beach wedding to avoid the troubles you may face at the last moment.
Beach wedding invitation
Your wedding invitation plays an important role in your beach wedding celebration. Your invitation will be your first announcement of your beach wedding ceremony. Use a picture of the beach as the background of your wedding invitation that represents your beach wedding theme. Keep your wording simple that your recipients understand easily and better.
Choose a light outfit
Think if you wear a long and heavy wedding outfit on a beach then how will you react if your dress gets a spot in the sand? Sometimes heavy and long dresses put in a lot of trouble, so choose a lightweight and short dress for your beach wedding. Go with light colors that will suit more with your beach theme wedding ceremony.
Ditch the heels
Did you ever even anyone who wear heels in a sandy area? High heels and sand never match. Wear flat sandals or shoes that do not sink into the sand. Remember sand can get hot so be prepared for this. Have a runner on the beach made of flowers or thick cloth. If you're putting runners on your wedding location then you can wear little heels.
Think about your hairs
Pay a little attention to your hairstyle also. It may be windy on your wedding ceremony day so keep your hair tie. Sometimes our hairs get to rush in that type of locations and you know better about your hairs, so get a hairstyle that will suit your face and dress at the beach area. Don't forget to use a serum that may help you to keep your hair stable.
Go with the informal theme
As you want your friends and relatives to enjoy at your wedding a lot, so choose an informal outfit theme. They will be more comfortable in lightweight shorts or one-pieces dresses. Also, inform them to do not wear heels and come in informal outfits that are great to enjoy more. You can give instructions to your guests through your wedding invitation card.
Welcome bag
Welcome your guests by giving them a bag of necessary things that will make them feel more comfortable. Purchase simple and inexpensive bags according to the guest list and put a water bottle, sunscreen, hand fans to avoid the heat and small hand towels into it. Do not buy heavy or large bags and do not put any burden on them.
Keep simple and natural
Beautiful ocean backdrops with shinny sand do not need any dressing up. Just highlight the beauty of your wedding location. Use a light shade of floral for decor and do not put glitter effects that look cheap with the beautiful beach location. Keep your decor natural just like your beach location. Choose any one color combination of your decor accessories that looks gorgeous and pretty expensive.
Put contrast colors
To make your setup look more gorgeous select the color that contrasts ocean and sand-like green, coral and vibrating tones. Light colors will look more amazing and match beautifully with your location. Do not choose dark shades that look pretty but will not match your location.
Get a legal permit
You will need some paperwork that holds your wedding celebration on the beach. With the help of permission, you may also get rid of the public. Research or ask someone about where you will get permission.
Ensure the privacy
You will find more crowded on weekends as people come to spend their holiday on the beach. Unless your wedding ceremony will become common in public. You may easily get a private location for a ceremony on rent as well.
Get the right time for photography
Lightening is important when you are dealing with beach photoshoot. Wedding photographs look more gorgeous with dim lights, not with sunlight. Use sunset as your photoshoot prop and this will put natural light to your pictures. Try to end your ceremony an hour before sunset and get great pictures in natural light.
Set up a shoe rack
Let your guests enjoy your wedding in a beautiful location. Provide a shoe station where they can swap their shoes for flip-flop slippers that will be comfortable for them on the beach.
Provide them the eye and skin protector
Sunglasses and sunscreen will be a friend of your guests. As you have chosen the beach area, the sun will try best to spoil your wedding so be prepared. Provide eye protection glasses to your guests that will also look stunning glasses themed wedding.
Have a backup plan
Who knows about the mood of the weather? Have a tent or canopy ready to keep the ceremony on the beach. You can go to an indoor location where you can arrange your beach accessories there.
Arrange shade
Consider a tent or canopy to cover the seating area. Or you can put bamboo shade on your ceremony location that looks royal.
Do not forget mosquitos
As mosquitos and water are best friends, they can put you in itching themed wedding. Spray mosquito killer liquids or gas to the location to get rid of unwanted mosquito guests.
Provide refreshments
Set up a table with a cocktail, lemonade, ice water, and other cool refreshing drinks to keep your guests refreshed.
Have a comfortable seat
Folding chairs, waterproof ottomans, and wooden benches are best to keep your guests comfortable.
Keep your specials warm
Arrange wood fires and baskets of shawls or comfy to keep your guest's shoulder warm in cool windy days.
These are the best suggestions to make your beach wedding trouble-free. If you have any more suggestions then please share with us through your comments.
Make your beach marriage wonderful with the help of Indian wedding cards or Indian wedding invitations.