Lay your hands on the latest trend of scroll wedding invitations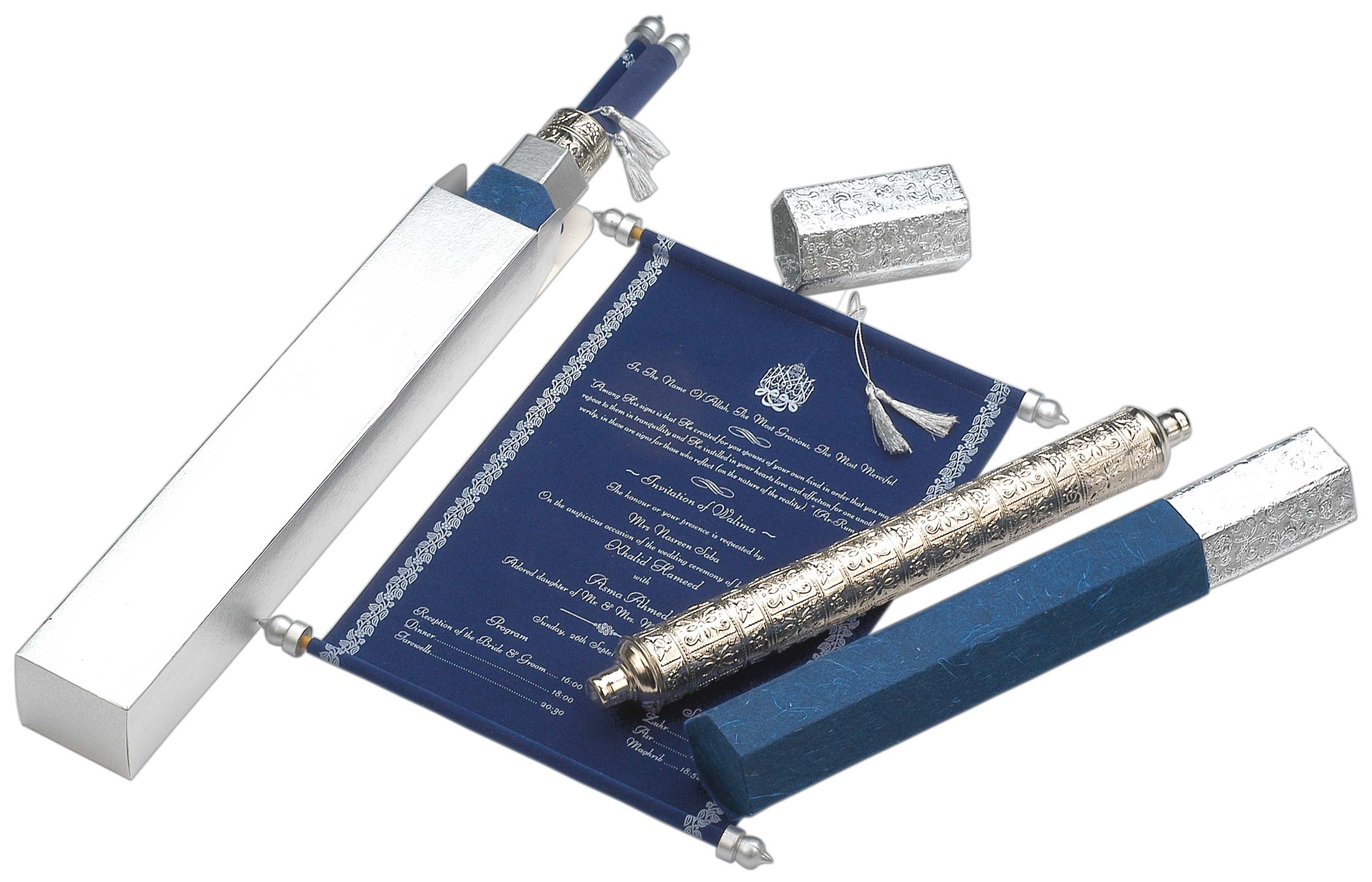 Weddings mark the beginning of a journey of two beautiful souls and create lifetime memories. It is a lifetime event and calls for an elegant celebration. Every detail of a wedding planner needs to be executed well. The preparations of the whole wedding ceremony should be able to leave a long-lasting impression on everyone's mind. Indian Wedding invitations are the beginning of the wedding ceremony. Invitees judge the wedding preparations through your wedding cards. 
You need to get creative with your wedding cards to stand out from the rest. Strike an impressive first impression on your invitees by designing a unique wedding card. The present wedding cards market scenario has changed. Big, old fashioned cards no longer dominate it. Scroll wedding invitations have taken the wedding market by storm. 
The royal and vintage look of the scroll wedding invitations is the perfect way to impress your invitees. These wedding invitations are incredibly lavish, unique and luxurious. Nothing can beat the grandeur feel of the scroll wedding invitations. 
The latest market trend
Set free from the conventional routine wedding invitations with the latest market trend of the scroll wedding invitations. If you are someone who likes to be unique with their wedding preparations, then scroll wedding invitations are your thing. Event managers and hosts are going gaga over the luxurious feel of it. They are an incredibly fascinating and gripping way of inviting your wedding guests. 
They add an aristocratic and aesthetic look to your wedding invitation. Set the whole mood of your wedding with the elegant scroll wedding invitations. Revive the majestic culture of inviting people through scrolls. The age-old tradition of scroll invitations was incredibly regal and lavish. 
Blend in the latest elegant trends with the traditional royal scroll invitations. Relish the novel and aristocracy feel with the scroll wedding invitations. 
Available in a wide variety of themes
Scroll wedding invitations are designed to meet all sorts of wedding themes. Their intricate designs and lavishness will fit perfectly with any wedding arrangements. Be it a vintage royal affair, extravagant traditional wedding, ethnic event, contemporary arrangement, grandeur wedding ceremony or a cultural nuptial event you will find a scroll wedding invitations to meet your specifications. 
They are an absolute classic when it comes to wedding invitations. Everyone wants something a bit different when it comes to their special day. Get people talking about your wedding preparations with scroll wedding invitations. These timeless classics are designed beautifully that can adapt to any colour or culture theme of your big day. 
They are available in various designs, presentation patterns, colours and themes to meet your exclusive wedding invitation ideas. You can tailor-make your information layout, presentation theme, script font, material, craft, colour scheme, and closure design. You can incorporate various motifs, designs, artistic components and textures. You can play with the colour and pattern of your scroll wedding invitations to blend it into perfection with your wedding theme. 
The material of scroll wedding invitations 
Scroll wedding invitations are available in a wide variety of material fabric and quality. You can choose from a plethora of material options like velvet, silk, satin, white woolly materials, silver metallic papers, handmade papers, shimmer papers, vellum papers and card sheets. You have to roll open these invitations to read the details printed on them.
Craft designs and accessories 
Designers use various wedding stationery to write wedding details like date, time and venue. You can find them in different sizes and multicolour options.
You can choose from various wedding stationery like beads, ribbons, bows, tassels, stones, metal charms, metal pins, scroll kit, support rods and other sorts of craft materials. You can customise the quality of your card that suits the theme of your wedding. The cost of a scroll wedding invitation depends on the materials and quality of your invitation. 
You can choose a simple, luxurious, royal, intricate or theme-based design for your wedding invitation. Designers of scroll wedding invitations have a vast collection of craft materials and scroll quality that will exclusively meet your specifications. Designers add exquisite accessories to compliment the regal look of your scroll wedding cards.
Dramatic silver and gold bars, hot foil designs, royal silver borders and scroll invitation boxes can amp up your wedding game. They are available in different varieties like Princess theme scrolls, box scrolls, simple scrolls and high-end royal scrolls. 
The calligraphy of scroll wedding cards
The calligraphy of your nuptial invitation will add the final look. It is essential to choose vibrant calligraphy that suits the overall theme of your wedding invitation. You can select from flourished copperplate, chancellery, round hand, relishing, sloop, contemporary and many others depending on your wedding theme. 
Wrap up
Scroll wedding invitations allow you to get creative and playful with your wedding invitations. They are an innovative way of conveying regal hospitality and courtesy to your guests. Their look and style are unmatched.