Indian Weddings with Bride from "Saat Samundar Paar"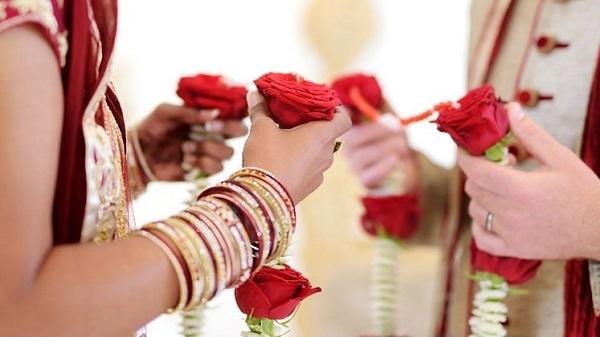 Love has no limits and boundaries and it has been proved by some couples who tied the knot with partners from overseas recently. Three Indian grooms are in news these days after getting married to their love from some overseas countries. First is Nikki Fewait from the USA and Paaras Bhardwaj from Haryana, second is Katrina from Australia and Tapan from Gujrat and third is Allina from Russia and Vikas Vilaniya from Rajasthan. All of these weddings took place in India itself according to the local traditions, culture, and rituals. These all
Indian weddings
have become the talk of the town these days and here we bring these to you.
Paaras and Nikki
Paaras 25 from Haryana and Nikki 31 from the USA became friends on social media website Facebook 3 years ago and started communicated with each other. The chatting over Facebook soon turned into love and Paaras proposed her for marriage. At first, both the bride and groom's parents did not agree, but later they accepted this relation. Nikki came to India on 9th Feb, and they married on 15th Feb according to Hindu rituals at a temple. Parents of Paaras have also accepted both of them now.
Tapan and Katrina
Tapan and Katrina got married on 16th February 2016 with the permission of their parents. Katrina belongs to Brisbane, Australia while Tapas belongs to Vadodara, Gujrat. Tapan Joshi is working for 6 years in a private company in Australia and also works as a DJ there. On her birthday in June 2013, Katrina contacted Tapan and they became friends very soon. The bride liked the culture and traditions of India very much after knowing these from Tapan and decided to marry him.
Alina and Vikas
Alina from Simferopol, Russia, and Vikas from Chirawa, Rajasthan also got married in presence of all their family member, friends, and relatives. These two studied together at Crimea State Medical University in Russia and fell in love with each other. They first consulted with their parents and after their permission decided to tie the knot. All the Indian style rituals were performed at the wedding at the home town of Dr. Vikas, Devroad.
Well, as we saw the time and society is changing now and accepting love openly, we also wish all the good luck for this bride and grooms.
Discover elegant designs for Indian wedding cards or Indian wedding invitations for every Indian wedding event, from the Sangeet and Mehndi to your ceremony and reception