5 Unique And Creative Ideas For Scroll Wedding Invitations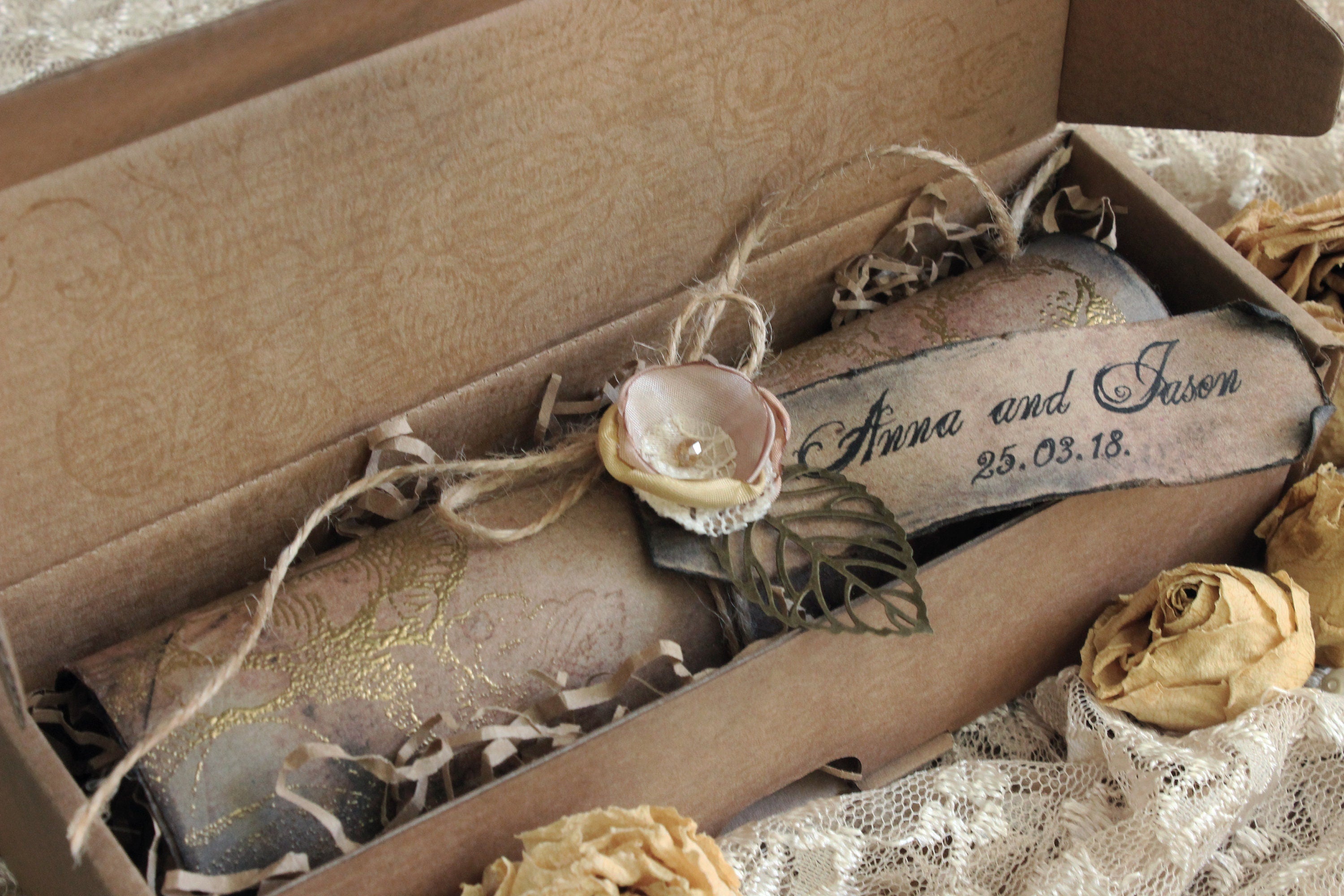 Wedding invitations play an important role in the wedding. Invitations are the first impression of your wedding and of course, the first impression is the last one. So choose the best wedding invitation design and format for your wedding ceremony that will deliver your message to your friends and relatives. Are you looking for a creative and unique wedding invitation? Presenting your friends and relatives with a scroll wedding invitation creates the most effective impression. Scroll wedding invitations are classy, royal, elegant, unique and beautiful. Apart from the amazing presentation style and format, scroll wedding invitations make guests feel more special. So here we go for five amazing unique and creative ideas of your scroll wedding invitation.
Boxed wedding invitations
Box invitations look very majestic and royal. Scroll wedding invitations in box lends and royal look that will make your guests remember your wedding. These invitations are made with matt and velvet paper that is of expensive design and royal quality. If you're doing a traditional wedding ceremony and having no issue of budget then this boxed scroll wedding invitation is perfect for your wedding.
Royal scroll invitations
Royal and traditional wedding invitations are getting very popular now these days. They are a perfect reflection of beauty and classic style. These are mostly made up of handmade silk and velvet materials. Mostly couples who planning royal wedding ceremonies are also chosen a royal look scroll wedding invitation. The pouch that comes with this invitation gives the beautiful finishing touch-up.
Natural invitations
Make your wedding celebration more special with this natural scroll design that will make your wedding more special. These invite features die-cut embossed leaves, copy stamped and interlocking that reflects trees. These invitation cards give an amazing look and inspire your guests. If it's graphic flourishes and spring are a fresh take on fauna and flora. If you are a nature-loving couple then this one is a great option for you.
Rustic wedding scroll invitations
If you are celebrating your wedding in the grasslands or the countryside then nothing is a great idea for your wedding invitation. Pick a rustic scroll design wedding invitation for giving an idea to your guests about your rustic wedding ceremony. These invitations are made by shimmer paper with captivating designs. Beautiful shades will surely attract the attention of your guests who will have a glimpse of it.
Egyptian wedding scroll invitations
Egypt is known as ancient beauty and style. Make your wedding celebration more interesting with this Egyptian wedding scrolls. Egyptian scroll invitations are designed in such a way that they express the beauty of Egyptian culture with beautiful styles. Make your wedding card unique and creative with this design that will make your guests feel special.
Make your wedding celebration more interesting with these scroll cards. So which design you will choose for your scroll wedding invitation card? Choose wisely and tell us through your precious comments. Keep in touch with us for more information about your wedding invitations.