Religious Elements of Hindu Wedding Cards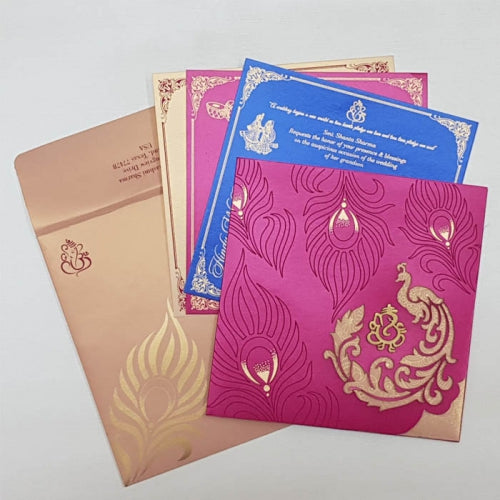 While Indian weddings are nothing less than an extravagant ceremony to celebrate love and togetherness, how can the invite of it be any less? The artistry crafted in Indian Wedding Cards are much adored but there are several religious elements of Hindu Wedding Cards too.
Here are some religious elements of a Hindu wedding card:
Turmeric for the Card too:
You probably are aware of the Haldi ceremony of the Indian wedding. But do you know that Indian Wedding cards are first marked with Haldi (turmeric) too? They are marked with this Turmeric as the spice symbolizes purity. It is used in every happy occasion and festival and is considered auspicious. It is used in Hindu wedding as the spice has several medicinal powers and is believed to be nectar for the skin. Also, the color yellow of turmeric is considered sacred as per Hindu religious legends.
The Image of Ganesha
The fact that Lord Ganesha is worshiped before embarking on anything new is not unknown specially on Indian Wedding invitations. But do you know the reason why the image of him is essentially included in Indian Wedding Cards? Well because it is considered holy and is believed to save the bride and the groom from anything bad during the wedding. He is believed to remove all the obstacles that could hinder this beautiful journey of love.
Vermilion and Rice
Vermilion or Sindoor is one essential element of Indian Wedding. You probably are aware of it, but what with the rice or the combination of the two. We in Hindu culture, wedding cards are marked with Sindoor and rice and are presented to Almighty. This is performed to make the wedding function blessed and holy along with seeking blessings for a happy married life. The white color of the rice is the connoisseur of peace and purity while red is considered sacred and is associated with happiness on religious grounds.
The Red Color in Wedding Cards
Red is a happy color but do you know it possesses the religious significance too as per Hindu mythology. It's the color of happiness and denotes absolute delight. Also, the color is the depiction of enthusiasm and purity and hence is considered to be auspicious for the wedding ceremony. You can find a tinge of it or the whole red colored Indian Wedding cards.
The whole idea of these religious elements is to ensure the happiness for the rest of the life, so embark upon this beautiful journey together with all your friends and family, happy Wedding…!!!