Mukesh Ambani's Son Wedding Cards Go Viral Worth Ruppes 1.5 Lac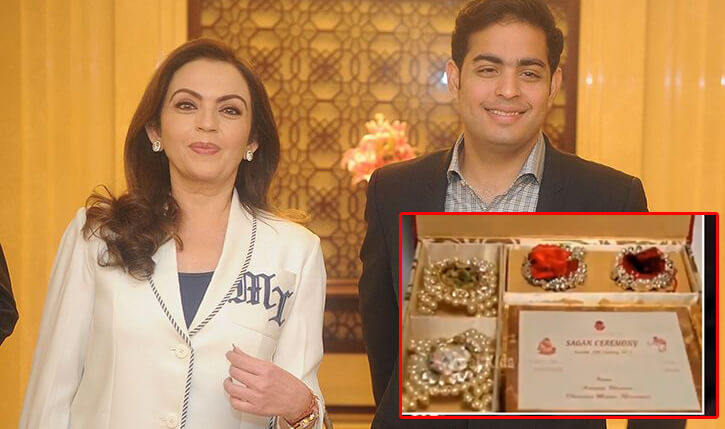 Wedding this one word create lots of excitement and enthusiasm in everyone's life and when we are talking about Mukesh Ambani's son than these things are at its peak. Everyone is so interested in everything about this big fat wedding of Akash Ambani that every single news has become the talk of the town. Whether Its about wedding cards, guest list, dresses, venue, people don't stop assuming things.
As senior Ambani couple organized a grand lavish engagement party for Akash Ambani and Sholka Mehta, so we are expecting wedding would be more extravagant. Many high profile guests from politics, films, sports and business families would be invited to the wedding. We have no doubts that this wedding would be remembered for years and become one of the luxurious weddings for the decades.
Every day you will hear something about this wedding. If you believe in rumors an alleged wedding card of the son of the richest man in India is gaining massive popularity in social media and has gone viral. According to the sources, A single cards worth is 1.5 Lac. Can You imagine if a single Indian wedding cards costs are 1.5 lac than how fancy this wedding would be? But when it comes to Ambani's family, we can not expect anything would be ordinary. You can just visit twitter, facebook or other social media platforms, you can see disseminating videos and photos of this expensive wedding invitation card. As per the social media, this gold plated cards are extremely beautiful and fancy that you can not off your eyes from them.
Although, Reliance has denied this and give the clarification that these images and videos are deceptive and fake and request to refrain unverified content. But still, we all know this thing that Ambani's heir Akash Ambani and Shloka daughter of diamantaire Russell Mehta wedding would be one of the most extravagant and remembered wedding of India.