5 Interesting Facts About Hindu Indian Wedding Cards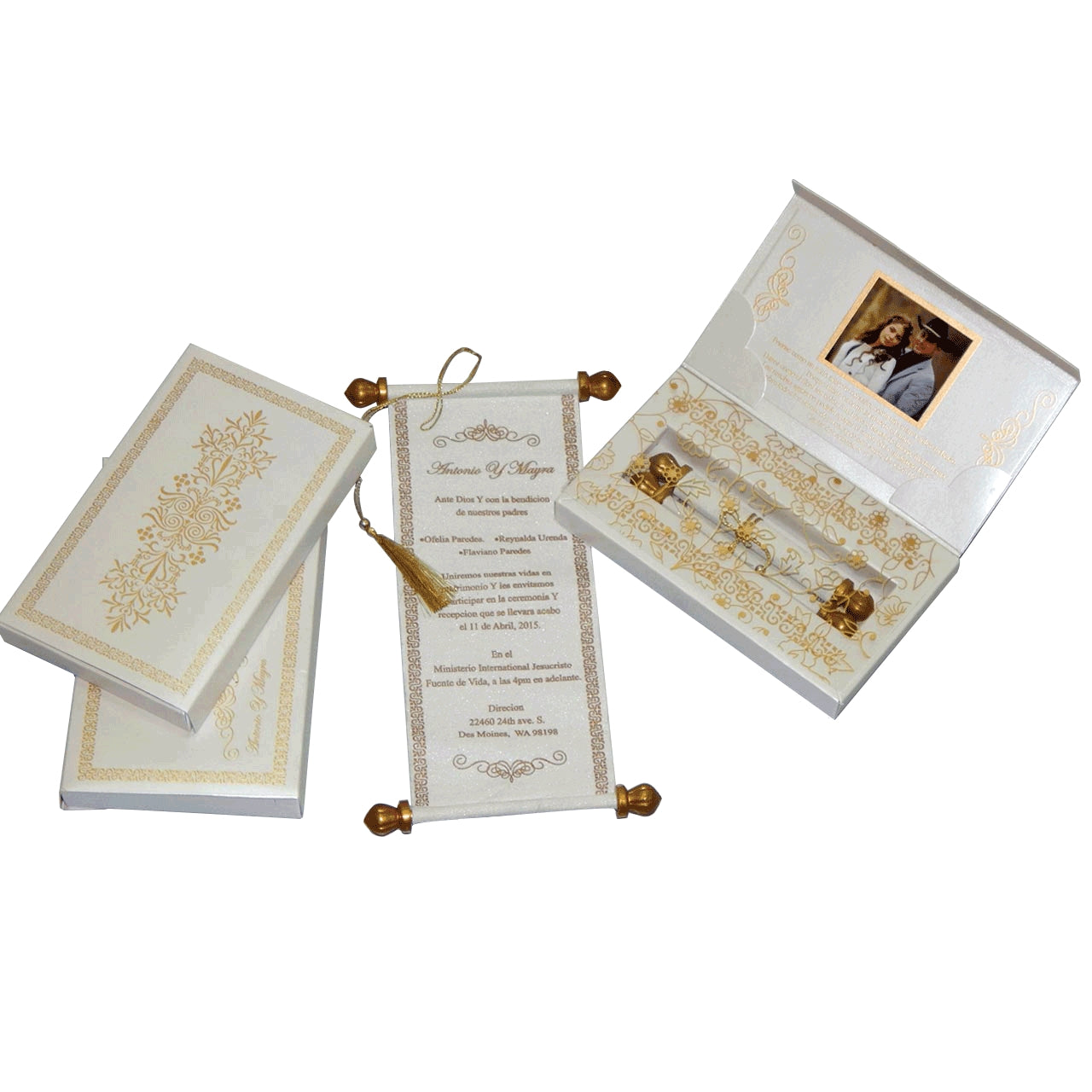 You probably have heard a lot about traditional practices and customs of Hindu Indian weddings. But do you know how significant it is for a Hindu wedding invite to have the motif or image of Lord Ganesha? Hindu wedding invites are no less interesting as the Hindu weddings. Wanted to know some more?
Here are 5 Interesting Facts About Hindu Indian Wedding Cards:
Fact 1: The Material of Hindu Indian Wedding Card
Hindu Indian weddings are probably the most extravagant events celebrating love and togetherness. Everything about an Indian wedding connotes happiness in its own ways. So are the Hindu Indian wedding invitation cards. They are bright and colorful, decorated with most intricate designs. The material used to build them is of the finest quality. From handmade papers to finest silk, from papers made of natural fibbers to hand-woven sheets, materials used in Hindu wedding cards depict eloquence in every possible way. They are expensive and look appealing. Hindu wedding cards made of simple paper are trending too. The perfect layout with the beautiful designs makes it no less spectacular.
Fact 2: The Designs of the Hindu Indian Wedding Cards
 

the Hindu Indian Wedding Cards
If designs of Hindu wedding cards are to be described in two words, it will be "flamboyantly intricate". The designers of wedding invites of an Indian wedding have some exquisite designs and artworks that can ascend the visual aesthetics of invites. Not only have those ornamental adornments made it look more appealing. The designs and the embellishments used to portray the rich culture and grandeur of Indian traditions and practices. You can easily see some interesting association of wedding ceremony in them.
Fact 3: Religious Elements of Hindu Indian Wedding Cards
Like the rich religious rituals and practices of Hindu Indian weddings, the invites also constitute of several elements which are religiously substantial. Motifs or pictures of the Hindu deities like Lord Ganesha or Lord Krishna are quite popular. Some religious symbols like a sign of "swastika" sign of "Om" are also included in wedding invites. Religious verses also form essential inclusions of traditional Indian wedding cards. Though modern wedding cards are less inclined towards all of it, even then you can find one or more of these elements inscribed in it. They look beautiful and hold religious significance too.
Fact 4: Envelopes are Equally Important
The outer cover or the envelopes of the Indian wedding cards are equally important. They also play a significant role in ascending the aesthetics of wedding invites. They are usually designed as per the design of the card. Or you can even tweak them with something that looks complementary contrasting. There are several designs for them too. Nowadays, people are adopting designs that are a blend of "conventional" and "modern". For instance, a wedding card in form of rolls which were earlier used in the period of royalty is trending.
Fact 5: The Content of a Hindu Indian Wedding Card
Though wedding cards are quite formal in nature you can tweak it with a little personal message at the end. The content of a Hindu Indian wedding invite usually constitutes of names of bride and groom along with their parents. Traditional wedding cards also constitute the names of grandparents and the siblings in the section of the special request. Content can be changed, but the spirit is still the same and it is to invite the guest to bless the couple on this beautiful journey they are about to embark upon.